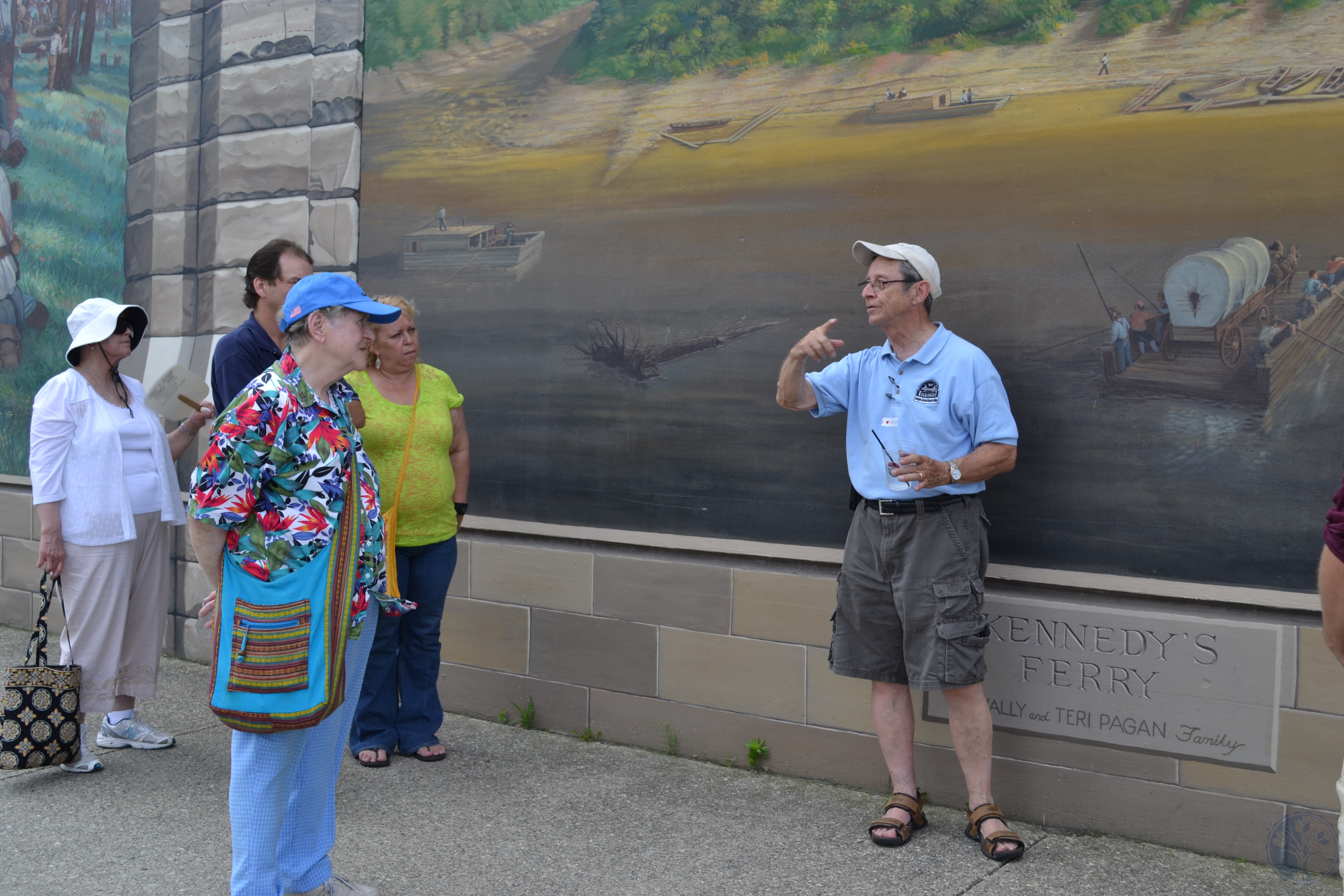 Speakers Bureau
The Kenton County Historical Society is happy to provide a guest speaker for your organization, school, or civic group. Choose from the many topics listed below, or contact us with regard to any specific topic in which you have special interest.
Current Speakers

Karl Lietzenmayer: Local history author, member of the Kenton County Historical Society board since 1993, and editor of Northern Kentucky Heritage magazine for over 20 years.
Bob Webster: Author of several books and articles on local and regional history, current president of the Kenton County Historical Society.
Tom Hoppenjans: Local historian
Available Topics
Daniel Boone (Karl Lietzenmayer)
The presentation will take the Quaker family from their origin in Exeter, England to Daniel's birth in Pennsylvania, his presence at Braddock's Defeat, wanderings on "long hunts," and his move to North Carolina and marriage. Discussion will center on Daniel's exploits in Kentucky, including his involvement in the Transylvania scheme and his part in the Wilderness Road. John Filson's role in Daniel's fame will also be covered, along with his later life in Missouri and the question of where Boone's remains reside.

Kentucky & The War of 1812 (Karl Lietzenmayer)
PowerPoint presentation of Kentucky's prominent role in this "Second War of Independence" and what the war means to Canadians. Included is a reproduction of the battle flag lost at the Battle of Raisin River. Discussed are the roles of Kentuckians such as James Taylor, William O. Butler and several future governors. Decision-making parallels with the recent Iraq War point to historic lessons to be learned.

Ghost Houses of Covington and Vicinity (Karl Lietzenmayer)
Uncanny connections of the collected poltergeist experiences with the actual historic people and events which occurred within the dwellings. The most famous Covington ghost, the "Lady in Grey" can now be identified. Stories also include homes of Baker-Hunt, Amos Shinkle, and Henry Bruce and phenomenon at former Booth Hospital and Newport Barracks. PowerPoint presentation.

Lafayette's 1825 Farewell Visit to America (Karl Lietzenmayer)
At age 67, the Marquis returned to America for his farewell visit. This PowerPoint presentation includes a survey of his route through every state (26) and details of his Kentucky visit. His Kentucky route is traced from Louisville to Lexington, Frankfort, Georgetown and north on the Lexington Pike [present US 25]. The question of whether he stopped anywhere in Covington is covered as well as his last Kentucky stop - Maysville.

Covington Flood Wall Murals (Karl Lietzenmayer)
Survey of history of Northern Kentucky as depicted in Lafayette, Louisiana native Robert Dafford's murals on the Covington flood wall. From pre-European times through settlement and into the 20th century. Choice events discussed in detail, such as the Roebling Bridge, artists Frank Duveneck and Henry Farney, as well as the slave escape of Margaret Garner and family.

The Balcony Is Closed (Bob Webster)
A history of the many movie theaters, now long-forgotten, that once graced the various neighborhoods of Covington, Newport, and the surrounding cities. The first "moving picture" theater in the area is discussed, as well as many old favorites such as the Madison, Liberty, State, Gayety, and Hippodrome. Also, an interesting sidebar story is included, linking Marcus Loew (of the widely-successful Loew's Theater chain and MGM Studios) to Covington, Kentucky.

The Beverly Hills Supper Club: The Untold Story Behind Kentucky's Worst Tragedy (Bob Webster)
Based on the recent book by the same title, this PowerPoint presentation covers a short history of Newport's "Sin-City" era and discusses the history of the Beverly Hills, from the illegal gambling casino of the 1930s-1960s, to the club's rebirth in the 1970s. The tragic fire on May 28, 1977, which killed 169 people, is covered in great detail, as is the initial investigation to determine a cause. The more recent re-investigation, which clearly points to arson, government conspiracy, and mafia infiltration is also discussed.

A Drive out Madison Pike: (Bob Webster)
Bob describes in detail, a drive along what we know as the 3L Highway (Madison Pike) from the Covington city limits to Independence. What makes this fascinating is the fact that this tour is from the era of approximately 1850 through the turn of the century. Residents such as the Wallace, Holmes, and Levassor families are mentioned, as is the now non-existent village of Sanfordtown (where I-275 meets Madison). Bob mentions the old "Chiseled Bridge" and Pleasure Isle, before ending the tour at the Independence courthouse.
Old Cincinnati: (Tom Hoppenjans)
Tom provides a moving presentation of Cincinnati's history from its founding in 1788 through World War II. Historic photographs along with short stories of factually-interesting information regarding famous business leaders will be covered, as well as Cincinnati "firsts."